A couple of weeks ago I showed you how to make a sewn Pocket Tissue Holder
here
. Well, it was convenient that while I was making them, I had a really bad cold and was going through tons of these little tissues! Kleenex really has done a great job in designing these little plastic pouches. They were so cute I just could not throw them away. I saved them, knowing I would have to try to fuse them together for a future project.
I cut them apart and decided to not use the Kleenex label so I cut that off too.
Fusing plastic into a
sewable
material is really easy. I have a tutorial on
FUSING PLASTIC
HERE
.
To fuse them I grabbed some recycled cereal bags. You know, the clear plastic ones ALL of our cereal comes in. I have never used them before, but thought they would work perfectly as a backdrop for many projects I throw away a million of these every year!
In this project I cut the bottoms off of the cereal bags so they would lay flat. I then arranged my colored plastic where I wanted them on top of one cereal bag.
Then, a large piece of parchment paper was laid on top of the entire piece. This paper will protect the plastic from fusing to your iron.
The Kleenex plastic was not fusing to the cereal bags, so I decided to layer another cereal bag on top. After ironing it looked like this. I was afraid you would not be able to see the color as well, but you could not even tell! It was perfect!
After fusing, this is what my fused pieces looked like. It was a nice hard, yet bendable plastic. Very different than when you fuse the typical plastic grocery bags. If you are looking for a stiffer material for your project, I definitely recommend the cereal bags.
You can see that there was a little bit of empty space on the left. I decided to add some more blue strips, roll the clear plastic over it and then fuse with the iron. Folding the plastic over on itself it soon became a little bag with a little flap for the closure. After that it just needed a little bit of trimming and a little bit of this and a little bit of that to finish it off. :)
The sewing on this bag is easy. I just folded it in half then sewed together using 2 rows of topstitching. A little bit of Velcro for the closing and a handle made from the same plastic and you have a bag that all the dolls will be envious of. I could have done a better job with the strap, but I forgot all about it until the end. I always forget the straps!
hehe
)
Blessings,
~Gina
This post was featured at these great blogs!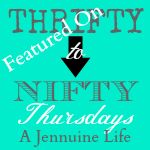 **********************************************************************************