I just op
ened
my
Etsy shop
last week, so I've been thinking a lot more about branding. I need business cards, fabric labels, hang tags, packaging....! It is a little overwhelming. So, I've decided to put together a series of post to help all of us, including myself, get our thoughts organized and find the best ideas that will work for us!
Lets first look at TAGS.
Pinterest
has so many ideas for DIY tags. I'm looking for something that I can make myself, b/c we are crafters, right?! Surely we can come up with something original, that represents our business.
Here are just a few ideas that I found on Pinterest. These would work for hang tags, or
tags to
tie on your package.
This Washi Tape Tag is from my new favorite blog...
Crescendoh.com by Jenny

Doh
. (
lover
of doodling and crochet) You have to check her out! I just pinned about 20 of her
post
.
Washi
tape would be a perfect quick little touch that you could add to all your branding items. Pick a design and use it for your business cards, hang tags, and
hand written
notes.
Rebecca from
Naughty Shorts
uses these shipping tags on her products. I'm new to her shop, but I know she makes the cutest dresses and she ships them out to customers. Maybe this is the name of the customer or the name of the style of dress. Either way, what I love about this tag is
the
sewn on heart! If your product is sewn, maybe you could run with this idea. (I know
i
will!)
Holly Becker from Decor8 used this little stamped tag and pompom for a box of sweets.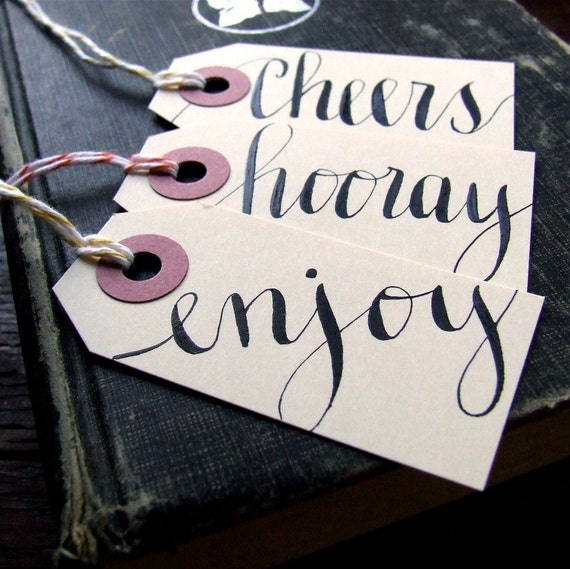 These tags are from the Etsy Shop
KissforCalligraphy
. A simple tag on your shipped package that says "enjoy" would be easy enough.
I'm LOVING this idea from the blog
Dixieland Country
. I'm sure I could find some fabric scraps lying around (LOL!)
This cute little tag is from the blog
Mamas Kram
. Here we have a mixing of stitched scrap fabric and stamping. Maybe you could stamp or iron on your business name??
Mmmm
...
I
'm liking
this one.
Well, I could go on and on with more examples, but these are my favorite and I think I already have enough ideas to start working on a tag.
You can check out my Craft Business Tips Board for some more ideas
HERE
.
Here's a summary of a list of items you might want to pick up at the store next time you are out so you can whip up your own business tags before that next order comes in! :)
*Shipping Tags (could not find at
wal
-mart or craft shop.
.
maybe at office store or online)
*Washi Tape
*Cute fabric in your business colors that frays on edges
*Stamps (purchase one with brand name- or make your own)
*Fabric Transfer paper to iron a word like "ENJOY",
clients
name or your logo, onto fabric.
I hope these ideas were helpful and got those creative juices flowing!
For my next post I'll show you some packaging ideas that will make your customers say, "
Oooh and
Ahhh" when it arrives at their door!
Check out my
Link Party Directory Page
to see where I will be hanging out this week!
Gina